A reliable manager of your properties
About Us
Bytový podnik Myjava (Myjava Housing Company) deals with the production, distribution and sale of heat, the management of residential buildings, non-residential premises and their renting out.
At present, we supply more than 4,500 households, schools and non-residential premises with heat. From its management position it provides for their comprehensive operation, including expert inspections and the management of the repair fund and bank accounts. A large part of our activities is oriented towards achieving the energy efficiency of real estates under our management and modernizing them in accordance with EU regulations.
Company history
2016
Change of company seat
The new registered office of Bytový podnik Myjava, spol. s r. o. is located at 8. apríla 372/1, Myjava
2014
INTRODUCTION OF NEW TECHNOLOGY
The introduction of a new combined heat and power production technology into the central heat supply system in the town
2011
MEMBER OF ENERGY GROUP
Bytový podnik Myjava becomes a member of the ENERGY GROUP.
1993
FOUNDATION OF THE COMPANY
The company Bytový podnik Myjava is registered in the Commercial Register
STATUTORY REPRESENTATIVES
Ing. Andrej Obrtlík

Ing. Eva Krčová

Ing. Štefan Vystavel

We Support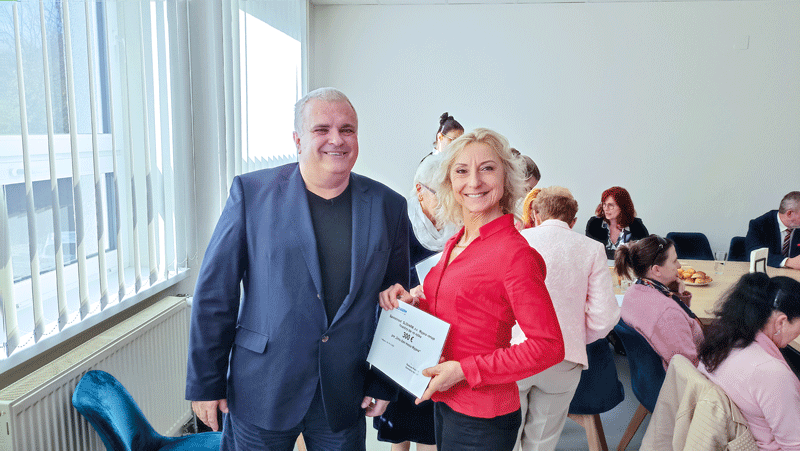 Slovarm and Bytový podnik Myjava supported non-profit organisations in Myjava in 2022 as well
25. 10. 2022
On 20 October 2022, in the new premises of the business centre and historical museum of SLOVARM, a.s., Slovarm and Bytový podnik Myjava once again handed over financial donations to non-profit organisations from Myjava.